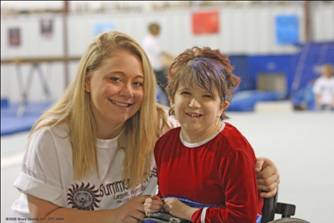 The Better the Coach…
The Better the Experiences…
The Better the Athlete.
UPCOMING TRAININGS:

MEGA Coaches Training June 16th- Casper
Sports offered:
¨ Equestrian
¨ Golf
¨ Softball
¨ Bocce
¨ Bowling
¨ Cycling
¨ Soccer
¨ Tennis
¨ Aquatics
¨ Athletics
¨ Basketball
¨ Powerlifting
Note: Minimum of five (5) coaches must sign up in order for training to be offered
To register fill out the MEGA Coaches Training Survey
We rely on thousands of people throughout the year to volunteer their time, knowledge and spirit to coach our Special Olympics Wyoming athletes. Coaching is open to everyone- past and current coaches, past and current athletes, or people with or without and sports experience who just want to help out!
Why Become a Special Olympics Wyoming Coach?
Coaches play an indispensible role in Special Olympics, and coaching education helps to ensure each coach and athlete has the best sport experience possible. Special Olympics Wyoming is happy to teach you what you need to know to enjoy your experience and make a significant difference in the lives of our athletes and families
Coach Responsibilities:
Assist athletes in developing sports skills and applying them during competitions
Build confidence and self-esteem through sport
Organize and conduct an 8-10 week sports training program
Teach all coaching staff and athletes the rules of the sport
How Do I Become a Coach?
If you're not currently involved with a Special Olympics team, the first step is to fill out the Volunteer Interest Survey. SOWY will forward your interest to the Local Coordinator in your area. You'll work with the local coordinator about their volunteer/coach needs.
After communicating with the local coordinator or if you are already involved with a team, a coach needs the following before working with athletes:
Step 1: Complete the Following:
A background check will be conducted on individuals 18 years of age and older.
The volunteer application must be resubmitted every three (3) years.
This training is required every three (3) years.
4. Online Concussion Training (new requirement of all coaches as of January 2015)
Step 2: Complete Sport Training Certification through the Coach Education System.
Option #1: For Volunteers

without

prior sports experience or certification

Attend a Special Olympcis Wyoming Coaches Training (see below for dates and registration)
Complete the Application for Sports Training Certification

Option #2: For volunteers

with

prior sports certification from an outside agency or with extensive sports experience (call Dan Lang to get approval of "extensive sports experience" 307-235-3062)

Complete the online Coaching Special Olympics Athletes course
Complete the Application for Alternate Head Coach Certification
In recognition of volunteer coaches with formal sport education, Special Olympics Wyoming provides an application for Alternate Head Coach Certification. To obtain a three-year sport specific Head Coach Certification, a coach can submit an application listing sport specific and educational levels achieved outside of Special Olympics Wyoming
Check Your Certified Coach Status
Upcoming Coaches Trainings:
Saturday April 1st Summer Sports Coaches Training! For more information and to register click HERE!
Interested in hosting a coaches training in your community? Check out the requirements.
Online Sports Certification Courses:
Recertification Courses:
Coach certification needs to be renewed every three years. Coaches have the option to:
Attend a sport-specific training (online or in person)
or Receive First aid and CPR Certification (good for one-time recertification)
or Complete one of the following online courses below:
Once a recertification course is completed, the coach must submit an Application for Sports Training Certification, listing the recertification course taken and what sport they are requesting recertification in.
*** There is an associated cost with these courses that will not be reimbursed by Special Olympics Wyoming.

Have questions? Contact Regan Diller 307.235.3062 or program@specialolympicswy.org