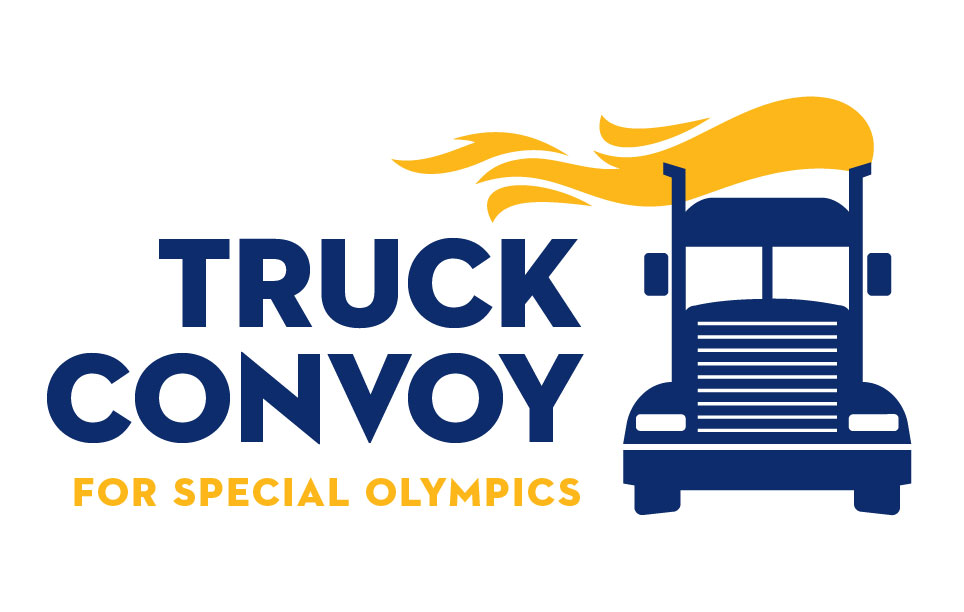 Wyoming Department of Transportation 5300 Bishop Blvd - Cheyenne
Saturday, September 19, 2020
---
WHAT IS THE TRUCK CONVOY to SUPPORT SPECIAL OLYMPICS WYOMING?
The Truck Convoy® is a celebration of the trucking industry and its support of Special Olympics Wyoming athletes. It is a unique one-day celebration in which law enforcement escorts a convoy of trucks up to 50 miles through their respective towns across the U.S and Canada.
Escorted by Law Enforcement, truckers will start and end with the Special Olympics Wyoming community - athletes, families, friends, colleagues, law enforcement officers, and the organizations, companies, and agencies. The trucking industry will join in with a celebration to recognize participating law enforcement, truckers, athletes and the community.
TYPES OF VEHICLES REQUIRED
Semi-trucks, truck/trailer combinations, large trucks low-boys, dump trucks, flatbeds, buses, large tow trucks, large box trucks, etc. All trucks entering the convoy must be of lO-GVW or larger.
Please note: Trucks carrying Hazardous Materials are NOT permitted to participate in the convoy.
Who
Compassionate Wyoming Truck Drivers
Law Enforcement
Special Olympics Athletes
Families, Friends, and Volunteers
When
Saturday, September 19, 2020
9:30 a.m. Registration
Coffee, orange juice, and pastries will be available in the morning
10:30 a.m. Welcome and Inspiration
11:00 a.m. Truck Convoy Begins
12:00 p.m. Burgers & Dogs • Recognition • Pictures
1:30 p.m. Event finishes
Where
WY-DOT 5300 Bishop Blvd, Cheyenne
How
Truckers and Law Enforcement meet up and stage a convoy through Cheyenne.
Athletes are there to celebrate the support; lunch is provided, and it all goes to support Special Olympics Wyoming.
Why
To support more than 1,800 children and adults with intellectual disabilities that currently compete in Special Olympics Wyoming.
Special Olympics Wyoming offers 16 Olympic-type sports; basketball, athletics, aquatics, bocce, tennis, powerlifting, cycling, equestrian, golf, softball, soccer, alpine skiing, cross-country skiing, snowboarding, snowshoeing, bowling, and MATP (Motor Activities Training Program)
Whatever form the celebration takes, the message is the same
"Thank you for your support of Special Olympics Wyoming athletes and for keeping our communities moving!"
Inspired by the powerful impact Special Olympics had on his life through his participation in the Law Enforcement Torch Run®, combined with his family's involvement with the trucking industry, Norm Schneiderhan, a Corporal with the Orange County Sheriff's Department, created the Truck Convoy, a one-day celebration of the trucking industry to help raise awareness and funds for Special Olympics.
EVENTS TAKE PLACE IN 32 STATES AND 2 PROVINCES IN CANADA.
2019 Done! Thank you all Involved!
2019 Sponsors -
Shake the Bush Sponsor - TriStates Commodity Hammer Down Sponsors - Walmart Distribution, Wyoming Trucking Association Georgia Overdrive - Equality State Transport, Sutherland Trucking King Pins - Transpro Burgener, Jester Trucking, ABF Freight Systems, Councours Carrier LLC, S & K Trucking LLC, H & M Express, M Victor & Son, MLT Trucking, Rouse Trucking, Silvertip Transport, T Bar D